Supply Chain Risk Management Blog - iPad Style
Submitted by

Daniel Dumke

on Wed, 2011-07-06 15:20
There are many ways to read the articles in my blog. I recently explained some of them here, but I just stumbled upon another way using the Flipboard App for the iPad (free).
Results
After installation and configuration the blog looks like shown on the pictures below and you can flip (hence the name) through the articles, in the style of a news paper.
At the beginning you'll see an overview of the most recent articles on the blog.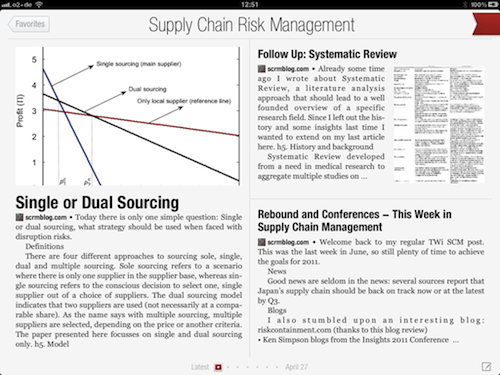 Figure 1: Article Overview
By swiping from right to left you can navigate through the archive of the blog.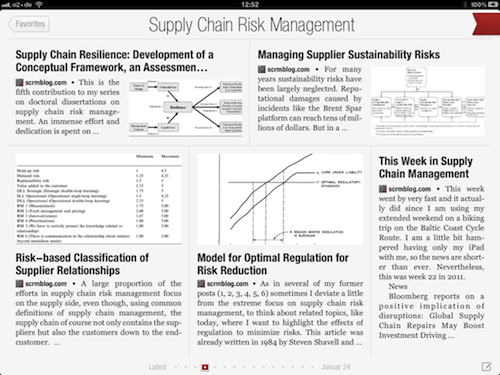 Figure 2: Browse the Archive
Found something interesting? Just tap the article of your choice for a full view.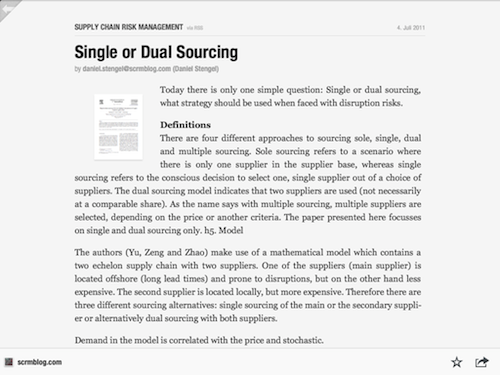 Figure 3: Full Article View
Installation
The installation is basically self explanatory, after downloading and starting the App. All you have to do is tap on More in the upper right corner and type "SCRMBlog" in the search bar. You should then select the RSS Feed for my blog. Don't forget to mark the blog as a favorite, so you do not have to use the search function every time.
Conclusion
Overall, I think Flipboard is a great way to explore large collections of text on the web that are updated regularly.
If you liked this post also have a look at How to use the iPad for research.
Even if it seems that way, I am not sponsored by either Apple nor the guys behind Flipboard, I just like the way the blog looks.