Managing Strategic Partnerships
Submitted by

Daniel Dumke

on Wed, 2011-03-09 07:57
Setting up the right partnerships is hard to do. There are multiple levels to the decision with which companies to setup formal relations and how deep this relationship should be? Christopher and Jüttner (2000) develop a framework for managing partnerships. The full paper can be found here.
Introduction
The authors use focus group interviews and multiple case studies to gain insights into practitioners' experiences.
Several factors are affecting an increasing focus on partnership management: The value chain orientation, rationalization of the supplier base, growing interdependencies and growing focus on the competition of supply chains and not companies.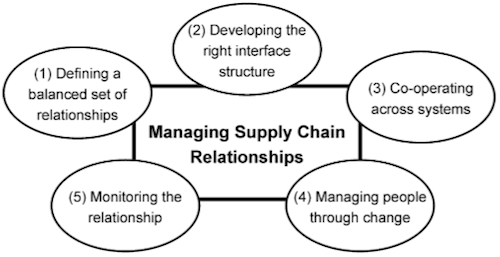 Framework for Strategic Partnerships (Christopher and Jüttner, 2000)
Framework
The key factors of the framework are: to define a balanced set of relationships, development of an interface structure, cooperation, change management, relationship promoters and monitoring.
Defining a balanced set of relationships
Keep in mind that partnerships are resource-intensive investments, first a company has to define its own strategy. Since the complexity of the network is dependent on number of levels, the existing relationships have to be evaluated: Can I substitute suppliers, buyers, goods? What are our common interest and what are my transaction cost? Christoper and Jüttner suggest, that this should not be done by multidimensional evaluation matrices, but a simple hierarchy to rank the suppliers / buyers may be sufficient. To generate some incentives for new comers this ranking and the generation process should be made transparent.
Developing the right interface structure
The authors argue that the quality of relationship is influenced by the closeness of the parties. There are distinctive types of interfaces which can be used for such a relationship: 1) only buyer / seller interaction (focus on price and margin, few resources invested, large number of relationships); 2) closer collaboration between buying and selling ("account management"); 3) relationship between companies, where there is direct interaction between a range of functions and usually substantial investment in the relationship
Cooperation
Here aspects like information sharing or data accuracy come into play. Also the sensitive parts of partnership are important
Change management
The authors want to point out that the change towards a company which embraces strategic relationships is not an easy one. Therefore managing people through this change is an essential part of partnership management.
Assigning a relationship promoter
To prevent relationship issues a relationship promoter on each side of the partnership is advised.
Monitoring the relationships
Monitoring can be done in a formal and / or informal way. The important point here is not to loose track of what has been achieved and how it was achieved.
Conclusion
Christopher and Jüttner provide a refreshing read on strategic partnership management. Refreshing, because they are not focussed on only one possible way eg. to measure the performance of the chain. They acknowledge that depending on the context a more informal way of measuring might be appropriate as well.
Reference:
Christopher, M., & Jüttner, U. (2000). Developing strategic partnerships in the supply chain: a practitioner perspective European Journal of Purchasing & Supply Management, 6 (2), 117-127 DOI: 10.1016/S0969-7012(99)00038-6