Supply Chain Conferences 2010
Submitted by

Daniel Dumke

on Tue, 2010-01-05 19:04
Update: For all the conferences of 2012 please have a look at Supply Chain Conferences 2012
The new year has arrived. Time for contemplation and time for making plans for the new year.
Some things can and should be planned quite soon. One thing is the Logistics and Supply Chain conference schedule for the year 2010.
2010 Conferences (

SCM

, Logistics)
Name
Location
Start
End
Fee
Internet

FMI

2010 Supply Chain Conference
Phoenix, AZ,

USA

31.01.2010
02.02.2010

USD

1'995
guest.cvent.com/EVENTS

CSCMP

Europe 2010
Rotterdam, Netherlands
25.03.2010
26.03.2010

EUR

750
cscmp.org/events/europe-conference
8th International Heinz Nixdorf Symposium
Paderborn, Germany
21.04.2010
22.04.2010

EUR

300 (before March 31)
wwwhni.uni-paderborn.de

POMS

21st Annual Conference
Vancouver, Canada
07.05.2010
10.05.2010

USD

520 (before February 16)
www.pomsmeetings.org
19th Annual

IPSERA

Conference
Lappeenranta, Finland
16.05.2010
19.05.2010

EUR

495 (before January 30)
www.lut.fi/en/ipsera2010/
EurOMA 2010
Porto, Portugal
06.06.2010
09.06.2010

EUR

600 (before May 17)
www.euroma2010.org

SCLE

urope
Prague, Czech Republic
07.06.2010
09.06.2010

GBP

1295
www.scleurope.com

NOFOMA

Conference 2010
Kolding, Denmark
10.06.2010
11.06.2010

EUR

555 (before May 15)
www.nofoma.net
Supply Chain Management

SIG

2010 Conference
Haifa, Israel
27.06.2010
tbd.
msom.technion.ac.il
15th International Symposium on Logistics (

ISL

2010)
Kuala Lumpur, Malaysia
04.07.2010
07.07.2010
tbd.
www.isl21.net
Hamburg International Conference of Logistics
Hamburg, Germany
02.09.2010
03.09.2010
tbd.
www.hicl.org

CSCMP

Annual Global Conference
San Diego, CA,

USA

26.09.2010
29.09.2010

USD

1'640
cscmpconference.org
International Conference on Logistics Reseach (

RIRL

)
Bordeaux, France
30.09.2010
01.10.2010
tbd.
www.rirl.bem.edu
I have personally attended the HICL (Hamburg International Conference of Logistics) in 2009 and was impressed by the interesting tracks and presentations.
Now suppose you have limited resources (presumably time and/or money) so you are not able to attend all conferences. So how to decide on which conferences to go? Have you tried the PCAF formula yet?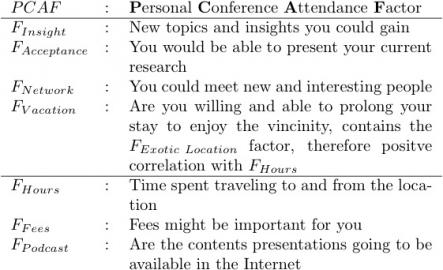 Please enhance as needed. You can use the comments section for that.
EDIT: I am preparing a analysis of this years major topic trends. Updates soon.