Supply Chain Integration as major Value Driver
Submitted by

Daniel Dumke

on Mon, 2010-10-11 10:27
"Arcs of integration" is a concept developed by Frohlich and Westrook (2001) which describes the degree of integration of suppliers and customers within a Supply Chain.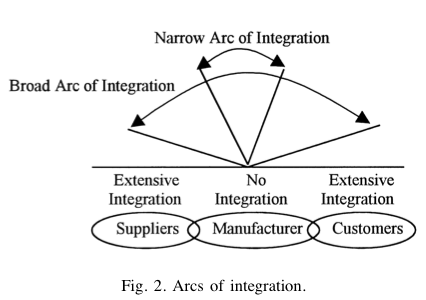 Arcs of Supply Chain Integration (Frohlich and Westrook, 2001)
Methodology
This concept was developed within the scope of an international study on supply chain strategies. In this survey the authors used the mail survey research method to collect over responses form over 700 companies from all over the world (Asia/Pacific: 26%, Europe: 50%, North America: 14%, South America: 10%). Data was gathered not only on the supply chain integration of each respondent (eg. shared access to planning systems, shared production planning, knowledge of inventory levels), but also on performance parameters on each company (eg. market share, profitability, return on investment).
Strategies
There are two major tactics for supply chain integration:
coordination and integration of the forward physical flow of deliveries between suppliers, manufacturers and customers
backward coordination of information technologies and the low of data from the customer to the suppliers
The authors distilled five different strategies from the answers from the survey:
Inward-facing
for companies without much up- or downstream integration
Periphery-facing
only little integration in both directions (compared with other companies from the sample)
Supplier-facing
higher integration on the supply side, low integration on the customer side
Customer-facing
vis-versa to 3
Outward-facing
strong integration on the supply and customer side
Results
The results show that those companies applying an outward-facing strategy clearly recorded greater rates of performance compared to all other strategies.


Comparison of different Strategies for Supply Chain Integration (Frohlich and Westrook, 2001)
The authors draw the following conclusions from the data:
The outward-facing supply chain strategy is associated with the largest rates of significant performance improvements.
Manufacturers may be seriously jeopardizing performance by continuing to follow the inward-facing strategy.
Results for the supplier- and customer-facing strategies suggested that focusing on only the inbound or the outbound sides of the supply chain gained little more for manufacturers than adopting the periphery- or inward-facing strategies.
Over 40% of the sample was in the periphery-facing group. This suggests that periphery-facing may be the supply chain's natural "equilibrium point" in terms of integration.
Conclusion
I can really recommend this article as a read and the first article I know which shows the connection between the degree of supply chain integration and performance levels.
Reference:
Frohlich, M., & Westbrook, R. (2001). Arcs of integration: an international study of supply chain strategies Journal of Operations Management, 19 (2), 185-200 DOI: 10.1016/S0272-6963(00)00055-3